Xact Link for ACT! and QuickBooks User Manual
Configuring the Link
Xact Link for Act and QuickBooks (shorten to XLAQ) must be installed before continuing with the following sections. Some also requires connection to QuickBooks in order to work.
To configure XLAQ, in Act go to "Tools" - "Xact Link for QuickBooks" or in Contacts Detail View, open "QuickBooks" tab, on the top right corner of the tab click "Tools - Options".
QuickBooks Tab
Easy Setup
Use Setup Wizard to provide step by step process of configuring XLAQ for the first time.
Manual Setup
Type: Specify connection to QuickBooks
Local QuickBooks settings
Use open company file: The default and recommended setting of connection. Uses the already open QuickBooks database (prior to opening Act).
Specify company file: This allows XLAQ to automatically run QuickBooks and open the specified company file.

Test connection: Perform connection test to QuickBooks for the above settings.
Link field: Specify the Act contact field to store link information.

User Access Control
The User Access Control is used to determine what each Act user is allowed to do within a given current Act database.
It is possible to assign different access rights for each function within the link, for example you can setup a user who can only view estimates data or a user who has read only access to the entire link.
Administrator will need to configure user access for every Act! user that requires access to QuickBooks tab in Act.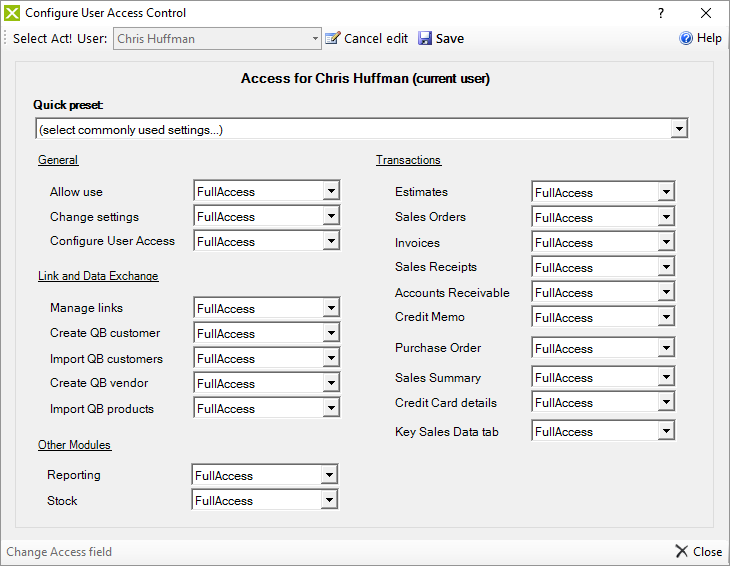 To set up User Access Control open the configuration window, select the Act! user to configure access and click Edit.
Use the Quick preset to choose common settings for different type of users. The access settings available are:
NoAccess: Hides this function from user
ListOnly: Users can only lists the items but unable to drill down into the details. No addition/modifications.
ReadOnly: Users can access existing items. No addition/modifications
ReadAndNew: Users can access existing items and raise new ones. No modifications allowed once saved.
FullAccess: Users have full access to add and modify items
The User Access Control used by the link will not override the user permissions set in QuickBooks.
Note: Some features will not be available on some editions of QuickBooks.
Notes:
Allow use: This setting determines if the user can access the QuickBooks tab and therefore supersedes the other settings. That is, No Access means all functionalities will be disabled for this user
Manage links: This setting applies to linking/unlinking contacts and the Auto Link Wizard.
Create QB customers: This setting also applies to Export Contact Wizard.
Change Access field (button): Shows the field in Act to store user access data. Must be of type 'Memo'.
By default the user access settings are set to "lock-out", you need to configure the access settings for each individual user after installation otherwise the users will not be able to use the product at all.
User access changes will apply the next time user logs in.
Import / Export
Once connection to QB is configured successfuly, the next step is to consolidate your customer records on both databases.
To help you do this we provide Auto Link Wizard, Import contacts, and Export contacts Wizard.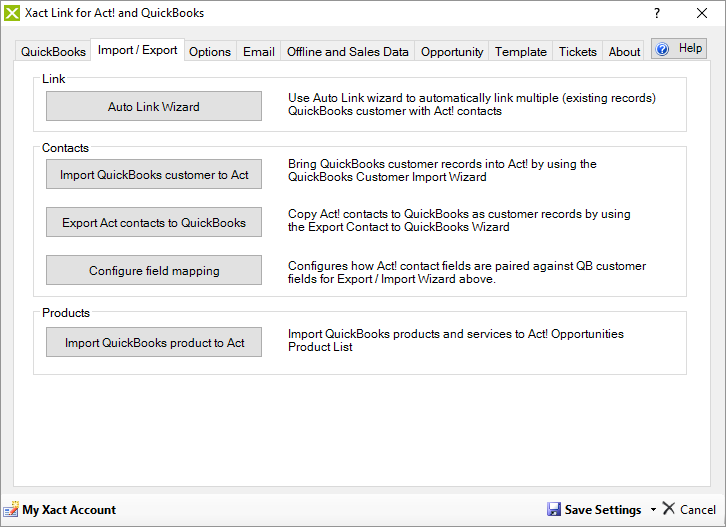 Firstly before performing Import/Export, use the Auto Link Wizard to automatically perform matches against Company name and Contact name.
Bear in mind the match process is limited to the same exact names, a misspelled or variations on the names will not yield the correct result.
Once the Auto Link wizard is complete you can identify which records in Act! are linked to QuickBooks accounts by performing a lookup (in Act - QuickBooks tab - Tools - Lookup Contacts).
Furthermore you can identify records in Act! that are not linked to QuickBooks and, if required, link these to existing QuickBooks customers or create new QuickBooks customers, individually or bulk using Export wizard.
For customers in QuickBooks that are not in Act! use Import wizard.
Lastly, for full integration with Act Opportunities and Xact Case Manager / Time & Billing, you will need to import QuickBooks items to Act products list. Not required for other operations such as creating invoice, etc.
To check for duplicates in Act!:
If you think you may have created some duplicate contacts in Act! you can perform a duplicate lookup by going to (Act) Tools - Scan for Duplicates. The duplicate checker requires you to select criteria to match on so it is important that your database is cleaned (as described above). You may also need to do this a number of times, matching on different criteria to find all of the duplicates.
Once you have found the duplicates go to Tools - Copy/Move Contact Data and complete the Wizard, or delete the duplicate contact.
Options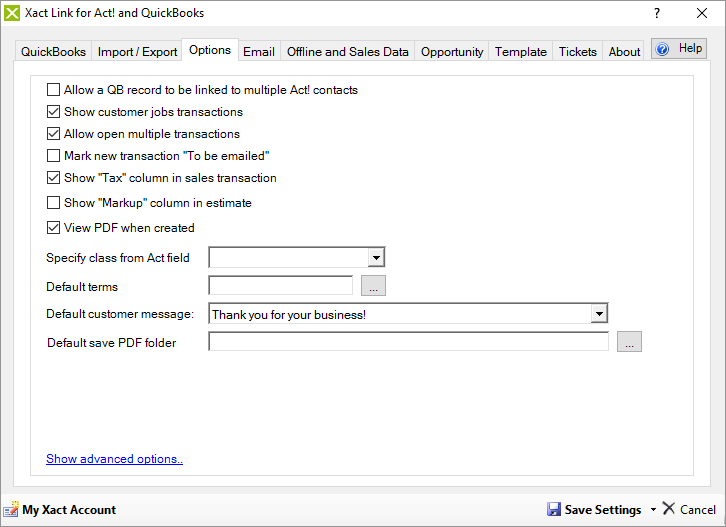 Allow a QB record to be linked to multiple Act! contacts: Turning this option will allow a QB customer (or supplier) to be linked to more than one Act contact record.
Show customer jobs transactions: Includes all customer's jobs transactions when linking to a parent customer record.
Allow open multiple transaction: User can open more than one transaction record without closing the other first.
Mark new transaction "To be emailed": Automatically tick "To be emailed" check box when creating a new transaction.
Show "Tax" column in sales transaction: Show or hide Tax column in Invoice form, Sales Order form, etc.
Show "Markup" column in estimate: Show or hide Markup column in Estimate form.
View PDF when created: automatically opens the PDF created from a transaction record using the default PDF viewer.
Specify class from Act field: Specify a field in Act contact that holds sales transaction "Class" value. Value must match exactly as defined in QuickBooks.
Default terms: Specify a payment term for new sales order / invoice if not specified in the customer record.
Default customer message: Specify a customer message for new transaction
Default save PDF folder: Specifies the folder to store PDF created from transactions.
Show advanced options: Display system settings. Only access these settings if adviced by one of our consultants or Xact Software support staff.
Email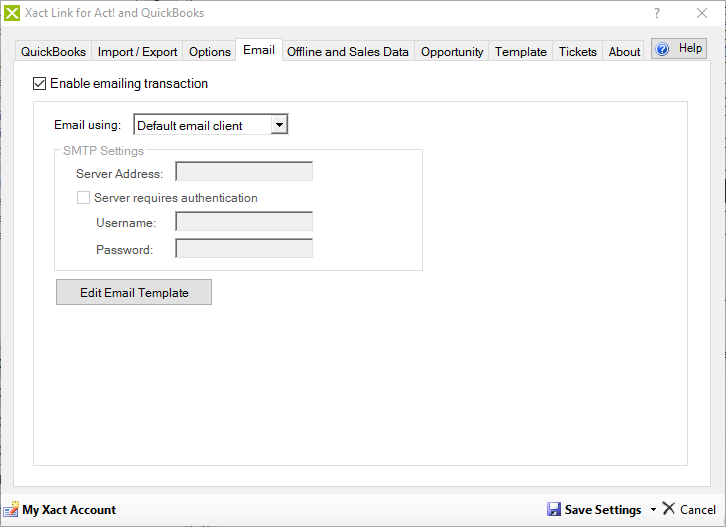 Enable emailing transaction: Show/hide Email button in transaction window

Email using Default email client: Use system's default email client, for example Microsoft Outlook to send email

Email using Mail (SMTP) server: Send email directly to an SMTP server

Edit Email Template: Open Email Template editor
Offline and Sales Data
Offline and Sales Data mode enables you to access customer information, account information and sales history overview.
Key features:
Introduces a new tab "Key Sales Data" in Act! Contact Details View, alongside with the QuickBooks and other tabs.
Allows access to vital customer information when not connected to QuickBooks
Perform lookup on the fields and build reports using Act built-in tools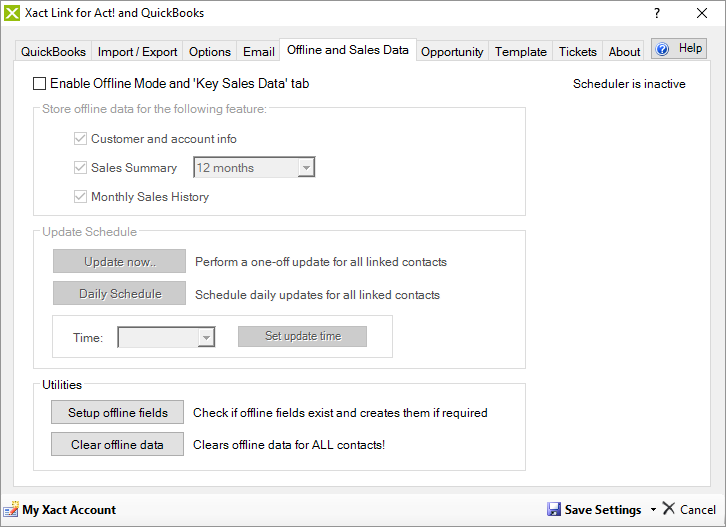 Enable Offline Mode and 'Ket Sales Data": Turn this feature on/off. A new tab "Key Sales Data" will also be shown if enabled.
Store offline data for the following feature: Specify which set of customer data to be made available offline
Update Schedule:

Update now: Run the updater right now
Daily Schedule: Schedule updater at a specific time. Act must be running for scheduler to work.

Utilities:

Setup offline fields: Verify if offline fields were setup. Schedule offline-field setup at Act start up if some or all fields does not exist.
Clear offline data: Remove all offline data (fields value) for all contacts in the current lookup. This will not delete the fields.
To delete the fields from Act! database, hold Shift and press the button.
Act! Opportunity Integration
One of the feature of Xact Link for Act! and QuickBooks is to create from and to Act! Opportunities.
This feature is enabled by default. To disable, un-check the Integrate with Act Opportunity.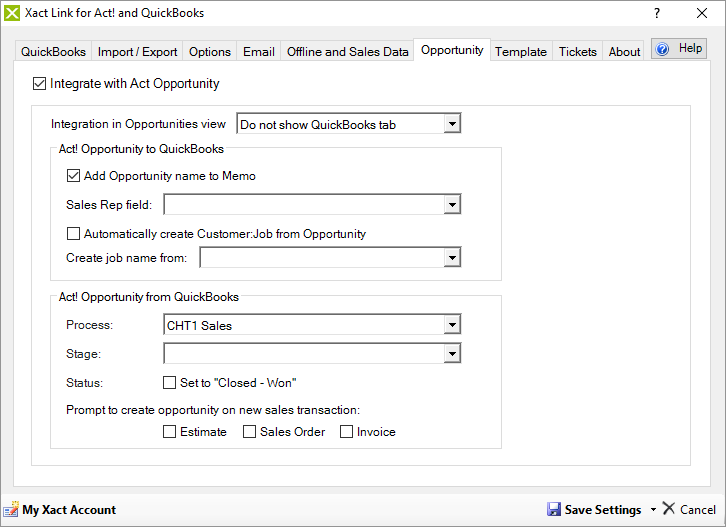 Integration in Opportunities view
Show "QuickBooks" tab in Opportunities Detail view, this mirrors the view in Contact Detail view.
Link is applies to the (first) contact in "Associations", not the actual opportunity record.
Act! Opportunity to QuickBooks
Options for creating QB document (invoice, sales order, etc) from Act opportunity
Add Opportunity name to Memo
Copies the opportunity name to memo field in invoice, sales order, etc.
Act field that contains the QB Sales Rep code; used to prepopulate/select the sales rep in invoice, sales order, etc.
Code must match exactly as specified in QB
Automatically create Customer:Job from Opportunity
Create a QB Job (child customer) when creating a QB document from an Opportunity
Used in conjunction with the next option
The Act opportunity field to get the QB Job name from
Act! Opportunity from QuickBooks
Options for creating Act opportunity from QB document
The Process, Stage (optional) and Status of the Opportunity to create.
If Stage is blank, a prompt will be displayed allowing user to choose upon creation of the opportunity record.
Prompt to create opportunity on new sales transaction
Pops up a prompt to create Opportunity when a new invoice, sales order, and/or invoice is saved.
Template
Not to be confused with built-in QuickBooks template, this tab allows some customisations to sales and purchase transactions for printing and PDF output from Xact Link for Act! and QuickBooks.
On this tab you can configure how you want your templates to look. For more information click here.
Xact Time & Billing (TnB) / Xact Case Manager (XCM) Integration
Enable this option to to enable creating TnB or XCM Tickets to QuickBooks sales documents..
To enable this feature the following conditions must be met:
Xact Case Manager or Xact Time & Billing must be installed and configured
You must be running Act! 12.0 (2010) and above
The QuickBooks item list must be imported into Act! (see Import/Export tab)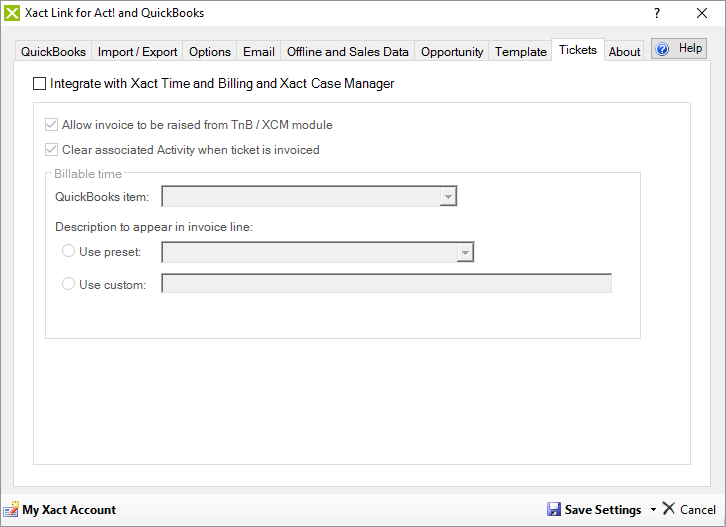 Allow invoice to be raised from TnB / XCM module: Enables creating the QuickBooks Invoice directly from TnB or XCM tab; Alternatively, to convert a ticket, user must switch to QuickBooks tab and select the tickets.
Clear associated Activity when ticket is invoiced: Mark the activity status as "Cleared" when a QB invoice is successfuly created.
Billalbe time - QuickBooks item: Specifies the product or service item in QB for the billable-time (in work hours) recorded in the ticket record.
Description to appear in invoice line: Specifies how the 'billable-time' appears on the invoice line description

Use preset: Pick from the commonly used format
Use custom: Specify your own formatting by inserting literal text and merge fields. Supported merge fields can be added automatically by selecting item from the "Fields" drop down and clicking "Add".